Quintessential London Cocktails and Where to Drink Them
15 May 2017
Londoners definitely like to enjoy a good pint when winding down, but ales and lagers can get a little old after a while…especially if you're not a big fan of brews to begin with. Never fear – there's more than beer in this town! Check out some of these quintessential London cocktails when you're out and about, and try out the corresponding recipes the next time you're hosting a shindig.
Pimm's Cup:
A brand of fruit liqueurs first produced in 1823, the inaugural Pimm's Cup is the most popular version of this cocktail. The No. 1 cup is a smooth, deep brown color with red undertones, and it tastes like blend of rich spice and citrus. Typically, it's mixed with ginger ale for a Pimm's Cup No. 1. Enjoy it at
The Avalon
in a gorgeous outdoor setting that features greenery and plants cascading down a rustic brick wall.
Make It Yourself: This cocktail is best concocted in a pitcher for sharing with mates as you take in a polo match. Combine 1 ½ cups Pimm's No. 1, orange and lemon slices, and a few sprigs of mint; allow to chill and marinate for 10 minutes. Then, add an equal part ginger ale, toss in some cucumber for garnish, and serve over ice.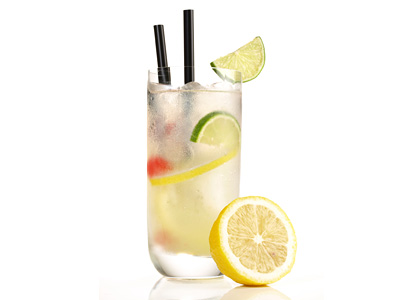 The Collins:
There's no consensus on the true story behind The Collins, but many believe this fizzy gin and lemon beverage was first served at Limmer's Hotel in the Mayfair district – which is why you should experience it at the source.
The Westbury Hotel
sits at that spot now, and their take on The Collins focuses on the star ingredient: Premium quality gin.
Mix Your Own: Combine 2 ounces gin, 1 ounce fresh-squeezed lemon juice, and a 1 tablespoon of simple syrup. Mix in a shaker, then pour over ice and top off with club soda.
Black Velvet:
This origins of this beer-based cocktail are rather gloomy. The drink is rumored to derive from the black velvet that Queen Victoria wore for the rest of her life after the passing of her husband, Prince Albert. A gentlemen's club in. St. James's Street served this stout and champagne cocktail out of respect. Black Velvets are available at almost any Irish pub in London, but try it out at the
Auld Shillelagh
for a bona fide version.
DIY This Cocktail: This super-easy recipe starts by pouring champagne into a flute-shaped glass; slowly pour Guinness over the top, using the back of a spoon to diffuse the stout and maintain the separation between the two ingredients.
There's a fantastic hot spot for quintessential cocktails around every corner in London. But if you prefer to make these concoctions at home, the folks at Myrooms can help you find an awesome space to perfect your mixology skills.
Please contact
us for more information on our lodging options for extended stays in London, or check out our website to search
available accommodations
.